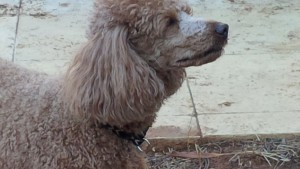 At the post office  בדואר
This morning when the postman came, I was in the shower. So he left me a "Package Waiting Stub" which read, "You were not home when we came to deliver package number 12345. Your package will be available from next Monday, and we will hold  it for 10 days".
I  put the stub in my pocket,  traveled to Tel Aviv to meet with 2 clients and then returned home to walk my dog, Georges. We walked over to the post office, although the package will only be available in 6 days. The post office was closed. (There is also a sign saying no dogs allowed).
I walked to the back door of the post office, where postmen return after their rounds. I showed Ziad the stub, and he said, "Why are all of you so impatient. Your package is probably not here, but go up to the 2nd floor and ask for Diane. Are you a professor? What a nice dog. Make sure he does not piss in the corridor."
I found Diane sorting mail and showed her the stub. "I need your help," I said. Dianne asked "who sent you here to drive me crazy. Do you have thorns in your ass?" ( i.e, Why is this so urgent?)
It was very very very hot, and I ask Diane why the union has not arranged for air conditioning. She cursed the union.
Diane then went to a huge bag, emptied it, and after 20 minutes of searching, I got my package. She told me Georges was cute.
So, what can be learnt from this?
1-Formal systems may have a work around via parallel systems.
2-Don't jump to conclusions when people are not polite.
3-Question the limits, build relationships and negotiate everything.