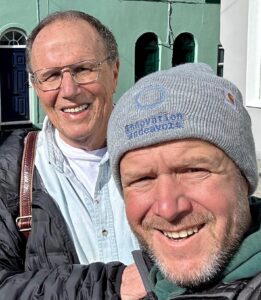 The plan was to travel from London Euston to Crewe, switch trains to Holyhead in Wales and cross the Irish Channel by boat. The plan worked, expect for the cancellation of the Crewe to Holyhead train which was impossible due to a rail strike. No problem, I'll write the railway and get a refund, I assured my son. The railway immediately acknowledged my complaint by email, detailing the arduous process I would need to go thru to get a refund, and that due to an overload of complaints, it "may take a few months".  Stuff it- we took a 250 pound cab.
Arriving at Dublin Harbour, we prepared our passports, but in the end, we just walked thru because the passport booth was unmanned. We were told that "this happens at times; we are a bit laid back". There was no cab or bus at Dublin Harbour, but a friendly lady "who had married an Irishman" took us in her cab using the taxi app that we had not yet installed. My son subsequently installed the app. I did not.
The car rental was the last hassle before the brilliant trip began. Due to someone's error, the car we ordered was unavailable-we were a no show; at least we were registered as such. We were there, but we were registered as a no-show. This reminded me of a scene from Seinfeld. There WAS a car, but it was a downgraded version, that is, smaller than we ordered. We agreed to take it, BUT the system did not allow the clerk to downgrade us. There was no way to upgrade us either, because we ordered a large car due to my height. So, the system blocked any solution. The attendant told us that this was the ultimate impact of software on Irish informality, and promised us a solution. She called someone, spoke for an hour, got us the car that we had ordered which suddenly appeared (as well as a 200 Euro rebate), and off we went.
From Dublin to Waterport to Cohb to Cork to Killarny to the Ring of Kerry to Doolin to the Cliffs of Moher to Westport to Galway and back to Dublin went we. Slowly over two weeks, laughing all the way about our idiosyncracies, we discovered the beautiful Republic of Ireland. The easy-going nature of the people, the beauty of the landscape, their suffering, their history, their struggle with the British, their informality, the ubiiqutous green colours, the coastal roads, the sheep and cows, their intricate beautiful language in which they have pride. We listened to Irish songs on Spotify, went to listen to Irish music in pubs at night, drank beer, and were never deterred by the constant rain and piercing cold as we ploughed thru this gem of a country.
There is nothing so rewarding and bonding as a father and son trip, except a father and son trip to Ireland.  Thanks to Amir for making this experience of a lifetime, and for driving properly "on the wrong side of the road".